De Carlini Mermaid and Fish Christmas Ornaments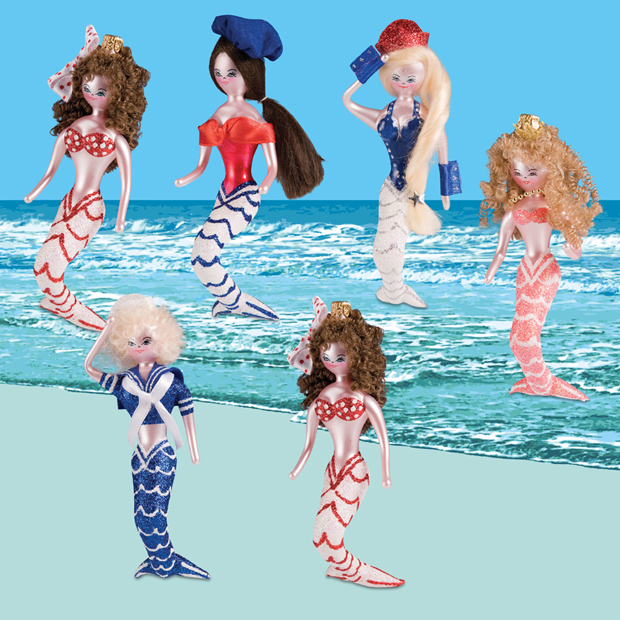 Our collection at The Cottage Shop contains a variety of De Carlini Mermaid Ornaments. As we continue to receive new styles, members will be the first to know about them and have the opportunity to purchase them before they are available to the public. If you are not a member yet, join today and receive $10.00 off your first purchase!
Mythical creatures known as Mermaids have invaded the imaginations of people everywhere. Depicted as half human and have sea creature, these beings have popped up in history as beautiful and at times even frightening.
The first known mermaid goes back to 1000 B.C. in Assyria. The Syrian Goddess of the moon and of the waters, Atargatis, was born in Euphrates. Mother to Assyrian queen, Semiramis, and after causing the death of her mortal love, Hadad, Atargatis jumped into the lake and assumed fish form. Since the water could not hide her divine nature, above the waist she took woman form and below, fish form. She is forever known as the mermaid goddess.
Countries all over the world have their own mermaid folklore. In Ireland, the female merrows are traditional sirens that are beautiful half human fish with long green hair and the male merrows are hideous and frightening. The females were said to have relationships with humans and their offspring might have webbed fingers and scales. In Scotland, the Legend of the Blue Men of Minch tells the tale of mythical sea creatures looking for sailors to drown and boats to sink. Scotland folklore also has the Selkie which are more gentle creatures that live in the water as seals but shed their skin to become human on land. In Japan, the Legend of the Kappa tells a tale of a creature that has greenish skin, humanoid body and tortoise shell on it's back, who inhabits fresh bodies of water. This creature plays tricks on humans and causes violence against other living beings. The Japanese also have the Ningyo which are creatures that have the top body of a monkey and bottom half of a fish. It is said that by eating one of these creatures a person will gain eternal life. In New Zealand, the Marakihau is the guardian of the sea. This dragon-like creature has a human head and long fish body and it said that it swallows boats and men in large quantities.
The more popular captivating mermaids have been portrayed in television shows and films. They have become a part of popular culture worldwide and will continue for years to come!
The De Carlini Neptune Christmas Ornament is decorated with long white hair, gold crown and holds a 3-pronged spear. In Roman religion, Neptune is known to be the god of freshwater and the sea. This item will give you a piece of mythology for your Christmas tree!
The De Carlini Southern Seas Mermaid Christmas Ornament is painted in a pink brassiere and tail with glitter accenting the scales.
The De Carlini Green Mermaid Princess of the Seas Christmas Ornament has wild feathered hair and a light green painted tail. This adorable item would make a memorable gift for anyone!