Limoges at Villa Ephrussi de Rotschild France
Limoges Antique Historical Reproductions from Madame Ephrussi de Rotschild's Collection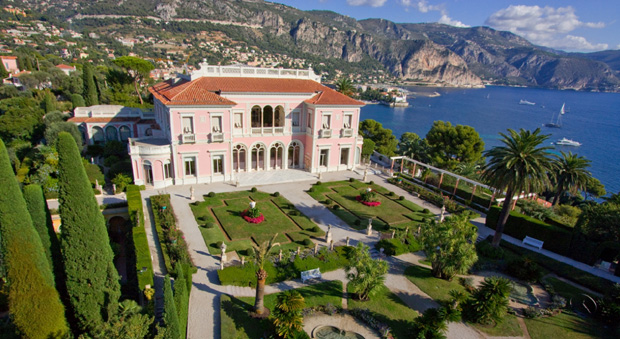 By her birth and by her marriage, Madame Beatrice Ephrussi would become one of the most important art collectors of her century. She was the daughter of the Baron Alphonse de Rotschild from whom she inherited the taste for grandiose art collections. In 1883, she married Maurice Ephrussi, a wealthy banker from Russia from a family of art collectors himself.
This magnificent villa on 7 acres of land was born in one of the most luxurious and beautiful places on earth. The main garden was created as a ship's bridge from where she would admire the beautiful Bay des Anges and remember her trip in the " Ile de France" Cruise Boat.
The Villa is surrounded by nine gardens, decorated with cascades, fountains and passages to give life to an Italian Garden, a Spanish Garden. a French Garden, an Exotic Garden, A Greek Style Garden, a Japanese Garden , a Provencal Garden, un Garden of Roses and the Sevres Garden.
At The Cottage Shop, we are pleased to exclusively present for the first time in the USA, these beautiful French Limoges porcelain cups and saucers that are historical reproductions of the private art collection of Beatrice Ephrussi de Rotschild. Each Limoges antique style porcelain cup and saucer comes in a gift box, from the city of Limoges, France. Makes a perfect Limoges gift or will give your Limoges or Fine Porcelain Collection a Touch of Elegance with French Historical Flavor.
On your next visit to the French Riviera, we encourage you to sop by at this magnificent place and take a tour of this lovely museum which is situated in the heart of the Frenc Riviera, between Monaco and Nice. You will be able to visit the museum during normal business hours most of the year from 10.00 AM to 6.00 PM, the library and bookstore and the "Salon de The"- Tea Coffee Elegant Lounge. Free car parking is available in front of the Villa.
The Villa Ephrussi de Rotschild is located in the small town of Saint-Jean-Cap- Ferrat.